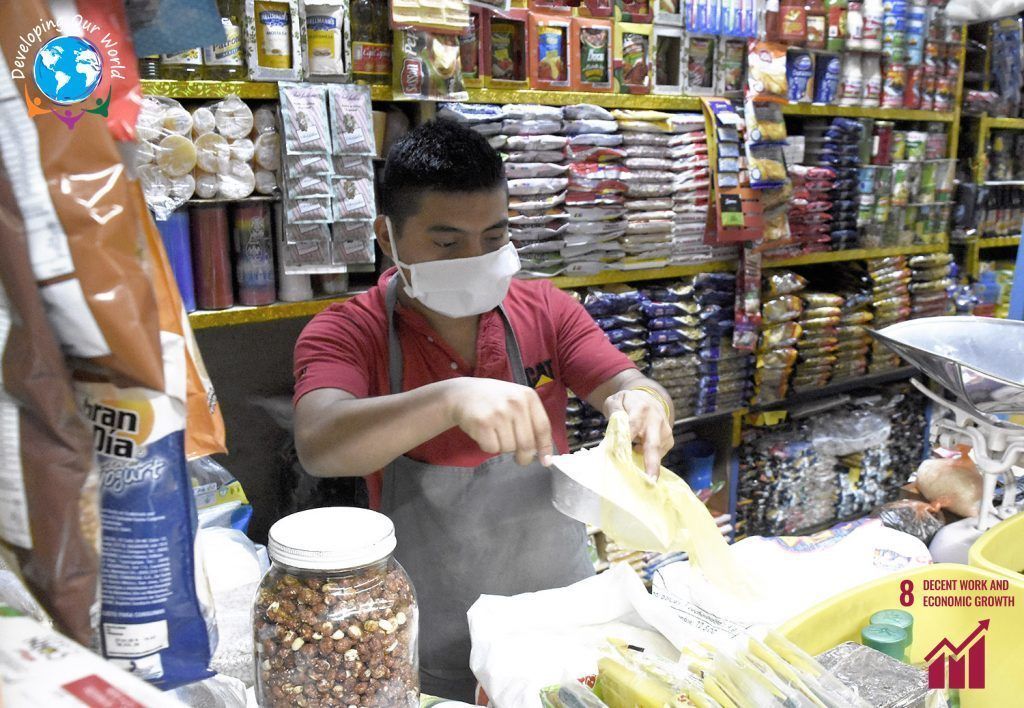 Eighth Goal: Decent Work and Economy Growth
Improving the living standards of individuals depends on the availability of decent jobs. These can only be created as a result of inclusive and sustained economic growth that drives progress. While many countries have taken significant measures to improve economic opportunities, many individuals and groups still stay disadvantaged.
According to the data on 45 countries, in 40 countries, men earn 12.5% more than women. At present, the global gender pay gap is at 23% globally. The experts predict that if no decisive action is taken, it can take up to 68 years for the world to achieve equal pay. The labor force participation of men is 94%, while that of the women is 63%. Even though the number of women in public life has grown, they are still doing 2.6 times more domestic work and unpaid work than men. Nevertheless, one positive change is that the global unemployment rate dropped down from 6.4% in 2000 to 5.6% in 2017.
The Impact of COVID-19 pandemic
The pandemic has led to a historic recession with record levels of unemployment and deprivation. This caused an unexpected human crisis that hit the poorest sections of the society the worst. The global economy got endangered like never before as billions of lives were disrupted. According to the International Labor Organization, about half of the global workforce is facing a risk of losing their livelihoods. Overall, the financial and economic shocks caused by the pandemic threaten to halt the already slow economic growth and add to the intensity of the risk factors.
To negate the adverse effects of the spread of COVID-19, the United Nations released a framework for immediate socio-economic response in April 2020. The target is to support the economic and social recovery of countries. The framework comprises the following five streams of work, which are linked with gender equality and environmental sustainability:
Ensuring the availability and protection of health services and systems.
Providing social support to people to help them cope with adversity.
Protecting workers, jobs, and enterprises.
Promoting financial recovery in vulnerable groups and improving responses.
Promoting community-led resilience and social cohesion.
The targets of the SDG Goal 8, "Decent Work and Economy Growth"
Here are some of the targets of Sustainable Development Goal 8:
Sustain per capita economic growth according to national circumstances and achieve a minimum of 7% gross domestic product growth per year in the least developed countries.
Achieve a full, decent, and productive environment for all men and women with equal pay by 2030.
Implement technological innovations and diversification to achieve higher levels of economic productivity.
How DOW is supporting this goal
DOW encourages, supports, and helps initiate small businesses. The organization helps create and increase access to economic opportunities to improve the lives of the deprived. For instance, we start little "tiendas" in Guatemala, which can be considered small-scale business units. We choose a family and provide them with startup funds to buy all sorts of things that a tienda needs. This enables a low-income family to generate a source of income. After the business becomes profitable, the family is then encouraged to donate funds that are used to help another family in a similar way.
Another project that DOW is currently working on is helping an academy in Nicaragua. We are looking for donors willing to buy Brazilian jiu-jitsu or judo mats to help this academy. If you would like to play your part, please get in touch with us today!