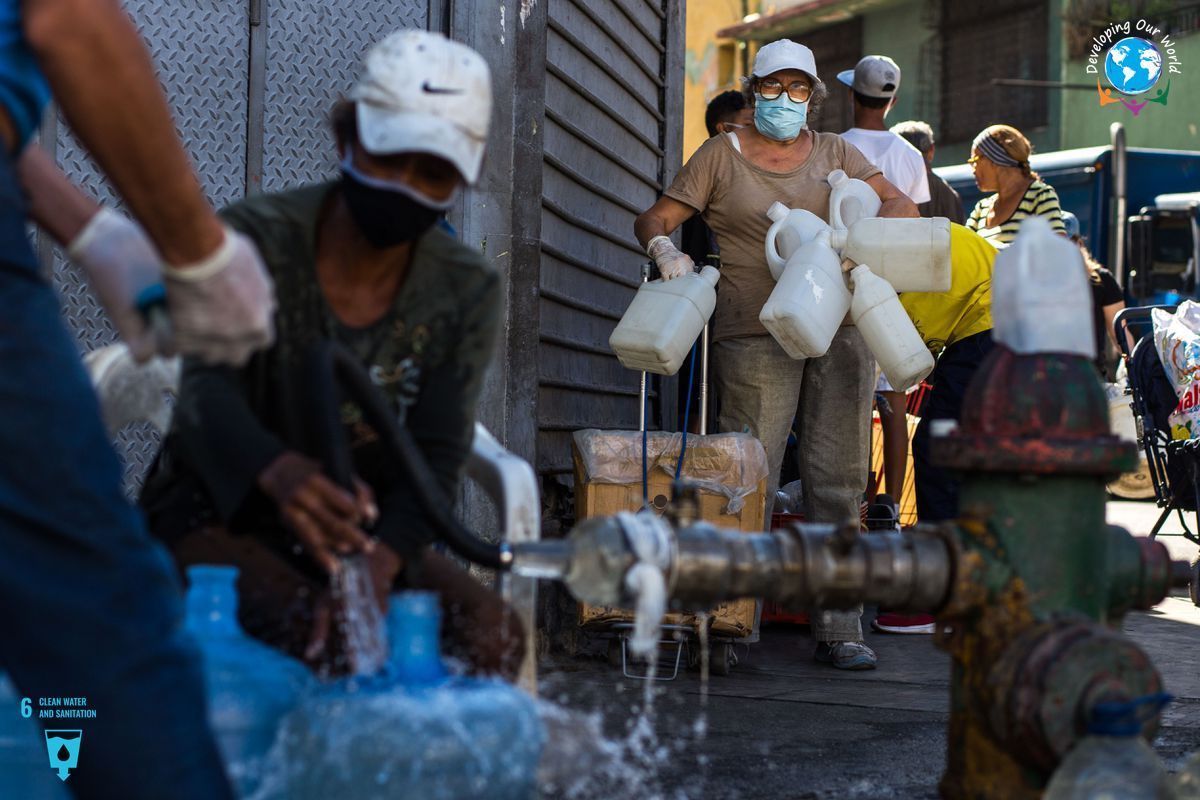 Sixth Goal: Clean Water and Sanitation
Every year, 3.4 million lives are lost due to the global water crisis. The statistics report how alarming the situation is. According to the WHO, 2.1 billion people worldwide don't have access to safe water at home. The UNICEF reports that 2.4 billion people don't have access to improved sanitation facilities – this makes 32% of the world's population. To add insult to the injury, more than $1.2 billion worth of water infrastructure investment has been lost over the last two decades as water wells remain broken today. For this reason, the United Nations' Sustainable Development Goals include "Clean Water and Sanitation" as the sixth goal. The idea is to solve the worldwide water crisis by empowering the local community to solve their own problems in self-sustained ways.
Over the past few decades, international and local authorities' and organizations' efforts have resulted in some progress in increasing access to sanitation and clean drinking water. Still, billions of people, particularly those in rural areas, remain deprived of basic services. Lack of funding is one of the main reasons behind this. All over the world, 673 million individuals still practice open defecation. Two out five people still don't have a basic handwashing facility, while 1 in 3 people don't have access to safe drinking water.
The Impact of COVID-19
While the need for adequate access to clean water, hygiene, and sanitation was already strong, the COVID-19 pandemic has increased it. Clean water and sanitation are crucial for the prevention and containment of diseases. The WHO has identified handwashing as one of the most effective preventative measure that one can take to prevent infections and reduce the spread of pathogens, including the COVID-19 virus. The UN experts say that without providing access to safe water for vulnerable groups of people, it will be impossible to spread the spread of the COVID-19 virus.
Targets of SDG Goal 4
The UN has named the current decade (2018 to 2028) to be the Water Action Decade. The rise in the world population and a 40% shortfall expected in freshwater resources by 2030 show that the world is moving towards a global water crisis. The UN General Assembly recognized the growing challenge of water scarcity. It launched the Water Action Decade on 22 March 2018 to promote better water management. Here are some of the targets of SDG Goal 6:
Protect and restore water-related ecosystems such as forests, mountains, rivers, and lakes by 2020.
Improve water quality by reducing pollution by halving the proportion of untreated wastewater, minimizing the release of hazardous materials, and promoting recycling and safe reuse by 2030.
End open defecation and provide access to equitable and adequate hygiene and sanitation to all by 2030.
By 2030, achieve equitable and universal access to affordable and safe drinking water for all.
Implement effective water resources management at all levels by 2030.
Strengthen and support the participation of local communities in improving sanitation and water management.
How DOW is Supporting this Goal
Developing Our World is working to support SDG Goal 6 as part of its holistic community development efforts. It makes several efforts to improve access to clean water and better hygiene and sanitation facilities to deprived communities. We dig wells for individuals and communities to provide them with fresh water. In Guatemala, we also build water tanks and water systems in villages that lack this basic infrastructure, and repair aqueducts. At this point, it is more important than ever that everyone has access to clean water so that the spread of the COVID-19 infection can be minimized. If you would like to know more about our activities or want to help us out, you are welcome to get in touch with us.