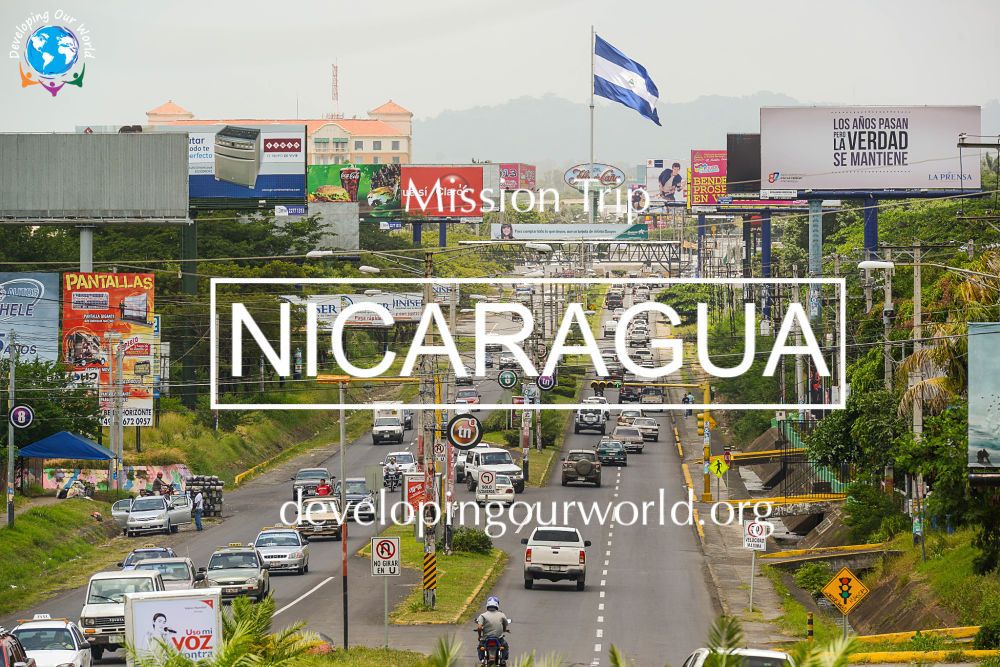 Nicaragua is a country in Central America, which is unfortunately troubled by many human rights issues. These include unlawful killings, physical abuse such as rape, and restrictions on freedom of speech and association such as attacks on the Roman Catholic Church and church officials. There is also widespread corruption, child labor, trafficking of people, and discrimination against indigenous communities and ethnic minorities. Many locals are experiencing low quality of life due to a lack of basic necessities.
Developing Our World has been serving the community in Nicaragua for two years. We want to send mission trips to this country. For our next mission trip, we are planning to go to Nicaragua in August 2021 to visit places in Chinandega and Matagalpa.
Getting to Nicaragua is easy. Several US airline carriers provide a range of short and convenient flights to Managua, Nicaragua, with one or two stops. Many US airlines also offer direct, non-stop flights from major US cities to Managua. These include American Airlines, AeroMexico, Avianca, Copa Airlines, Delta, United, La Costena, and Spirit.
The mission trips organized by Developing Our World are structured in a way that keeps the volunteers well taken care of while allowing them to indulge in the local culture to have a fulfilling volunteering experience. After reaching Nicaragua, we stay in a comfortable and safe place. The package includes food, a translator/guide, insurance, and on the ground transportation. The volunteers get access to any help or support that they may require. The cost of each trip falls between $1,200 and $1,800, depending on the airfare.
Our mission trips offer a great opportunity to individuals, churches, schools, and organizations to engage meaningfully in holistic community development. When you book a trip with us, you are signing up for spending seven to ten days of working in a community. There are several activities that you can engage in during this experience. They include researching the community, building relationships, building capacity, and delivering individual or communal projects that make the life of the local people better. Since we focus on holistic community development, each of our trips is meticulously planned to keep the values of the organization and the community in mind. Our projects are designed to help people in a way that encourages them to learn how to improve their situation themselves. We don't encourage dependency, both in our volunteers and in the people we help.
Those interested in booking a trip should get in touch with us soon. We will book you a slot and brief you on the next steps. This is a great opportunity for anyone who wants to give back to the community and continue Jesus's mission earth by serving fellow human beings. So, contact us to get more details today, and we look forward to getting you on board!