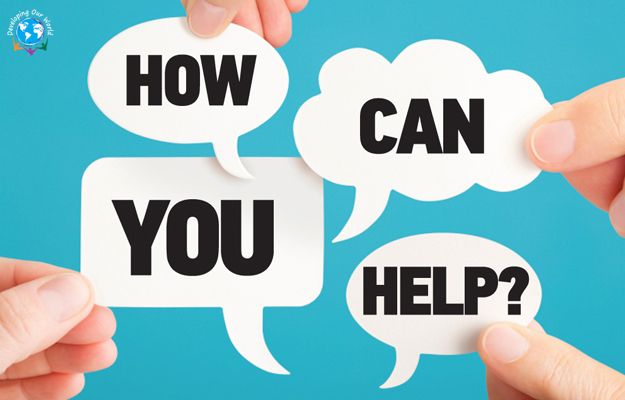 Developing Our World is an organization that focuses on holistic community development. We serve the people by developing the community up from the grass-root level. Our work involves exploring communities, searching for and developing leaders, and researching on the most pressing issues of the people. We run a wide range of programs for training leaders, providing healthcare facilities, teacher training, offering loans, school refurbishment, providing seeds and fertilizers, installing latrines, housing programs, mission trips, and church projects, among others.
Founded and led by Rev. Miguel Torneire, Developing Our World works day and night in several areas of the world to create a safe, healthy and productive environment for people of different cultures and backgrounds. We believe in justice and humanity, and serve people in their own community and environment, without any prejudice or discrimination. Through our efforts to improve the lives of those in need, we challenge the status quo and change it through the applications of the teachings of the Gospel.
As we strive to fulfill Jesus's mission on earth, we give a humble invitation to others to join us in this noble cause. We are often asked how people can support or work with us. In this article, we are going to discuss some ways in which you can get involved with us:
Check with the Executive Director
You can get in touch with Rev. Miguel Torneire, our Executive Director. He's always looking for passionate individuals who want to get involved in any of our projects by contributing funds, supplies, or their time. A one-on-one meeting with him can help us decide how to best utilize your talents for the utmost benefit of those in need. The Executive Director can be reached through an office visit, or phone, email, or website form. Please find the contact details here.
Find out how they are
Another way to contribute is by making updates on the people who we are serving. Many times, despite our efforts, there are still many things that need to be done. When helpers contact us to get updates on the situation, we can let them know where help is still needed.
Also, if you have contributed for the help of a specific group of people, it is advisable that you ask us how they benefited from your help. We are open to giving you updates because we have nothing to hide. This reflects both our honesty and our commitment to keeping supporting people until they can take care of themselves.
Pray for them
Prayer is the most beautiful gift that you can offer anyone. We appreciate monetary and physical help, but all those who we are helping need your prayers too. We have complete faith in triune God, and believe that he blesses the believers with what they ask for if they ask with enough conviction and intention. Therefore, we request you to keep us and our people in heartfelt your prayers. God is always listening.
Ask if they are still working
It may be challenging to run a nonprofit organization, but it becomes all the more difficult during a global crisis, such as the current COVID-19 pandemic. Despite this, by the grace of God, we are still working and surviving. You can find details of our work on our website and are welcome to help out in whatever way you want.
Offer volunteering
We are always on the lookout for volunteers. Even amidst social distancing, there are ways to help. You can gather donations online, spread the word, or serve in other ways. If you have the passion to serve humanity and want to help us do Jesus's work on earth, you are welcome to volunteer for us.
As you are able, make a gift
If God had blessed you more than others, and you want to give back to the community, you can donate to us. We promise to use your money honestly and wisely, so that God is pleased with all of us. None of our team members is on a payroll, and 90 percent of the funds are spent on helping people.
If you would like to support us in any other way, please feel free to get in touch with us to share your suggestions today. We look forward to hearing from you.