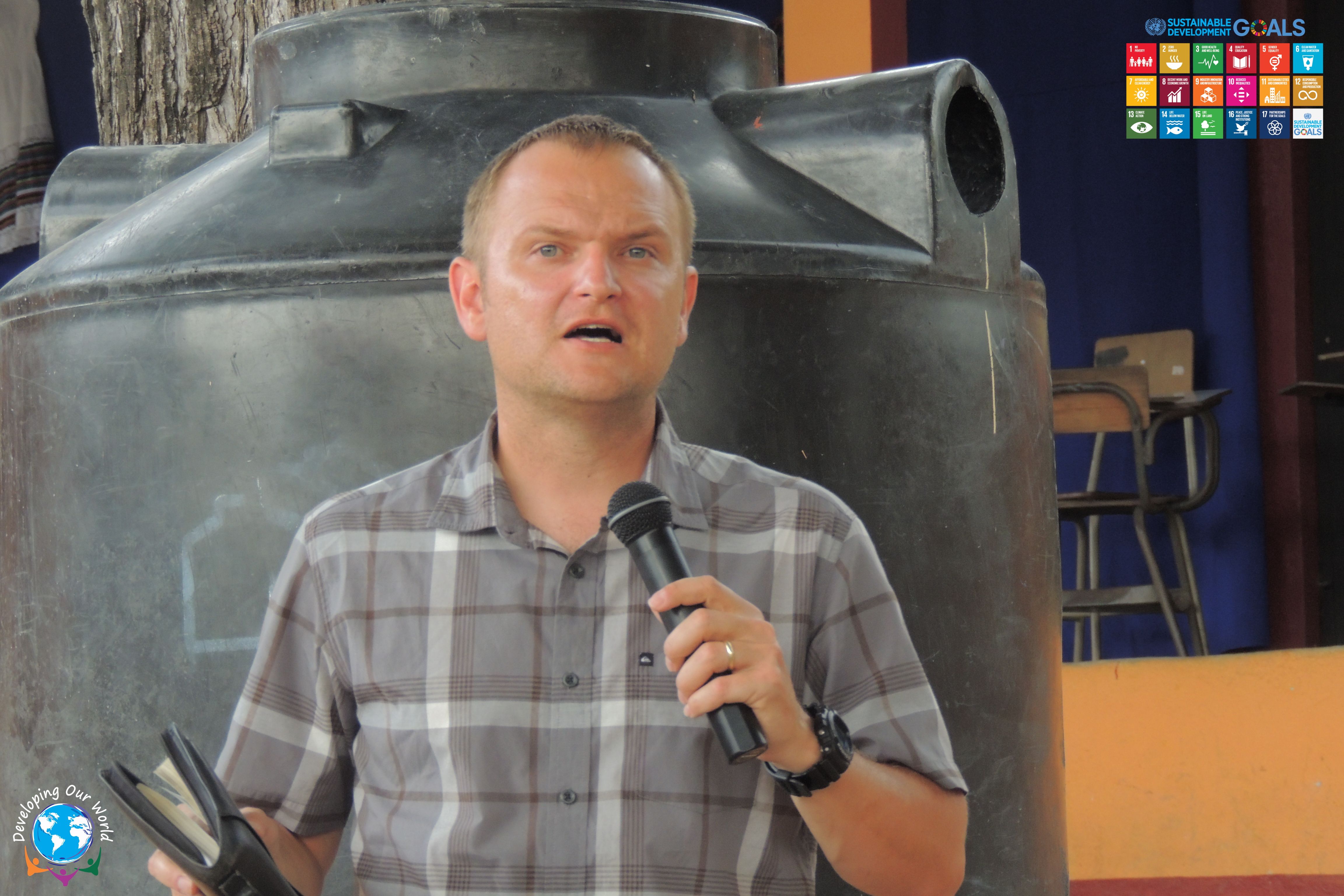 Individuals efforts can greatly contribute towards advancing the sustainable development goals. We are often faced with the doubt of how we can positively influence our sustainable development behavior, it is necessary to understand that the problems that affect sustainability are not restricted to large companies, in one way or another we all contribute to our grain of sand.
The solutions to the problems that affect sustainable development should not be limited solely to the policies, strategies and standards designed and established in companies.
Although they seem insignificant, our individual actions can contribute significantly and positively to sustainability, our commitment and awareness is needed to achieve truly sustainable development.
At Developing Our World, we present a set of measures that we must contemplate to contribute to this very important cause.
Reduce (not waste resources)
Analyze the ads critically
Avoid commercial mail; Delete from the databases of advertising companies.
Avoid electric devices and toys with batteries.
Avoid elevators whenever possible.
Congratulate, communicate and call meetings electronically.
Consume seasonal and organic farming products.
Control water consumption in hygiene, irrigation and swimming pools.
Cook efficiently: take advantage of waste heat, do not heat more water than necessary and do not preheat in the oven if it is not necessary.
Defrost the refrigerator regularly, check that the doors close properly, check boilers and heaters.
Do not get carried away by commercial campaigns
Do not program very high temperatures (warm more) or excessively low (ventilate better, use awnings, blinds...); use timer and place thermostats in appropriate places.
Incorporate water saving devices in taps and tanks.
Isolate (apply appropriate housing insulation standards)
Load washers, dishwashers, etc. properly
Organize movements of several people in the same vehicle.
Proceed to drip irrigation, water first and last hours of the day.
Quick shower; Close taps while brushing, shaving or lathering.
Reduce (better avoid!) The use of plastics, cans, objects with batteries, materials with toxic substances, etc.
Reduce battery consumption or use rechargeable batteries.
Reduce energy consumption in food, improving it at the same time.
Reduce energy consumption in heating, cooling and cooking.
Reduce energy consumption in lighting, use energy-saving light bulbs: compact fluorescent and LED (Light Emitting Diode).
Reduce energy consumption in transport, use public transport, bicycle and / or travel on foot.
Reduce speed, drive efficiently.
Reduce the consumption of plastics, and in particular of PVC, in toys, footwear, small appliances, cleaning products and others (if unavoidable), choose recyclables (PET, HDPE, etc.), reusing them to the fullest.
Reduce the consumption of products containing toxic substances, such as insecticides, solvents, disinfectants, removes stains, polishes, aggressive cleaning products ("cleaning without chlorine"), do not buy clothes that need to be cleaned in dry cleaners or use dry cleaners, etc.
Reduce the use of paper, avoid printing documents that can be read on the screen.
Reject consumerism: practice and promote responsible consumption.
Schedule purchases (go shopping with a list of needs)
To use recycled paper.
Turn off the TV, computer and other appliances completely.
Turn off unnecessary lights (overcome inertia) and make the most of natural light.
Turn off unnecessary radiators or conditioners (overcome inertia)
Use motion sensors to turn on the light only when necessary
When they are not used; Disconnect mobile phone chargers and other electronic devices.
Write, copy and print double-sided and taking advantage of the space (without leaving excessive margins)
Reuse everything you can
In particular, avoid plastic bags and wrappers, aluminum foil and paper cups.
Print, for example, on paper already used on one side.
Rehabilitate homes, make them more sustainable (better insulation, etc.) avoiding new construction)
Replace them with reusable, repairing them when necessary, while you can use recycled products (paper, toner...) and recyclable.
Reuse paper.
Reuse water: use water from washing fruits and vegetables and cooking eggs (enriched with calcium) to water the plant.
Recycle
Recycle batteries, mobiles, bulbs containing mercury, computers, oil, toxic products.
Separate waste for selective collection ("compacting" to occupy less).
Take "Clean Points" which cannot go to ordinary deposits.
Use technologies that respect the environment and people
Apply safety regulations at work and at home.
Avoid sprays and sprays (use manual sprayers)
Do not buy products without ensuring their safety: monitor the composition of food, cleaning products, clothing... and avoid those that do not offer guarantees
Opt for renewable energy in the home, automotive, etc.
Use devices that work with solar energy: radios, mobile chargers, laptops.
Use efficient appliances, low consumption and low pollution (A ++)
Contribute to education and citizen action
Contribute to environmentalize the workplace, the neighborhood and city where we live.
Help conceive sustainability measures as an improvement that guarantees everyone's future and not as a limitation.
Help to become aware of unsustainable and closely linked problems: consumerism, population explosion, predatory economic growth, environmental degradation and imbalances.
Inform about the actions that we can carry out and promote their implementation, promoting campaigns to use light bulbs, reforestation and association.
Investigate, innovate and teach.
Perform dissemination and impulse tasks: take advantage of the press, Internet, video, ecological fairs and school supplies.
Promote social recognition of positive measures for a sustainable future.
Study and apply what can be done for sustainability as a professional.
Participate in socio-political actions for sustainability
Avoid contributing to noise, light or visual pollution.
Avoid residing in urbanizations that contribute to the destruction of ecosystems and / or greater energy consumption.
Be careful not to damage the flora and fauna.
Claim clear information policies on all problems.
Claim local, state and universal legislation for the protection of the "Cyber-interact" means: Support solidarity and sustainability campaigns from the computer.
Claim the solidarity tax application.
Collaborate actively and / or economically with associations that defend sustainability.
Comply with traffic regulations for the protection of people and the environment.
Defend the right to research without ideological censorship.
Demand respect for international legality.
Do not leave residues in the forest, on the beach.
Do not smoke where third parties are harmed and never throw cigarette ends.
Give the vote to the parties with more favorable policies for sustainability.
Oppose unilateralism, wars and predatory policies.
Promote Fair Trade.
Promote the democratization of world institutions.
Reject products resulting from predatory practices (tropical woods, animal skins, fishing).
Report continued growth policies, incompatible with sustainability.
Report ecological crimes: illegal logging, forest fires, untreated discharges, predatory urban planning.
Require the application of the precautionary principle.
Respect and defend cultural diversity.
Respect and defend knowledge, custom and traditions (provided they do not violate human rights).
Respect and defend the diversity of languages.
Respect and enforce Human Rights, denounce any discrimination, ethnic, social and gender.
Respect and enforce the protection of biodiversity protection legislation.
Shearing, unsustainable tourism...) or obtained with labor without labor rights, child labor and supporting companies with guarantee.
Show to the merchants our disagreement with the use of excessive wrapping, waste of plastic bags, not separated from garbage, etc.
Support programs to help the Third World, defense of the environment, help people in difficulty and promote Human Rights.
Work for governments and political parties to assume the defense of sustainability.
Evaluate and Compensate
Perform personal behavior audits
To adequately monitor our contributions to sustainability in housing, transportation, professional and citizen action.
Compensate for the negative repercussions of our actions when we cannot avoid them (emissions of CO2, use of polluting products...) through positive actions.
It is appropriate to initially select those measures that are most achievable and agree on plans and forms of follow-up that become effective momentum, favor positive results and stimulate a growing involvement. At Developing Our World, we encourage you to act responsibly and sustainably in your day to day work in order to individually advance the Sustainable Development Goals. Every drop in the ocean can make a great difference.