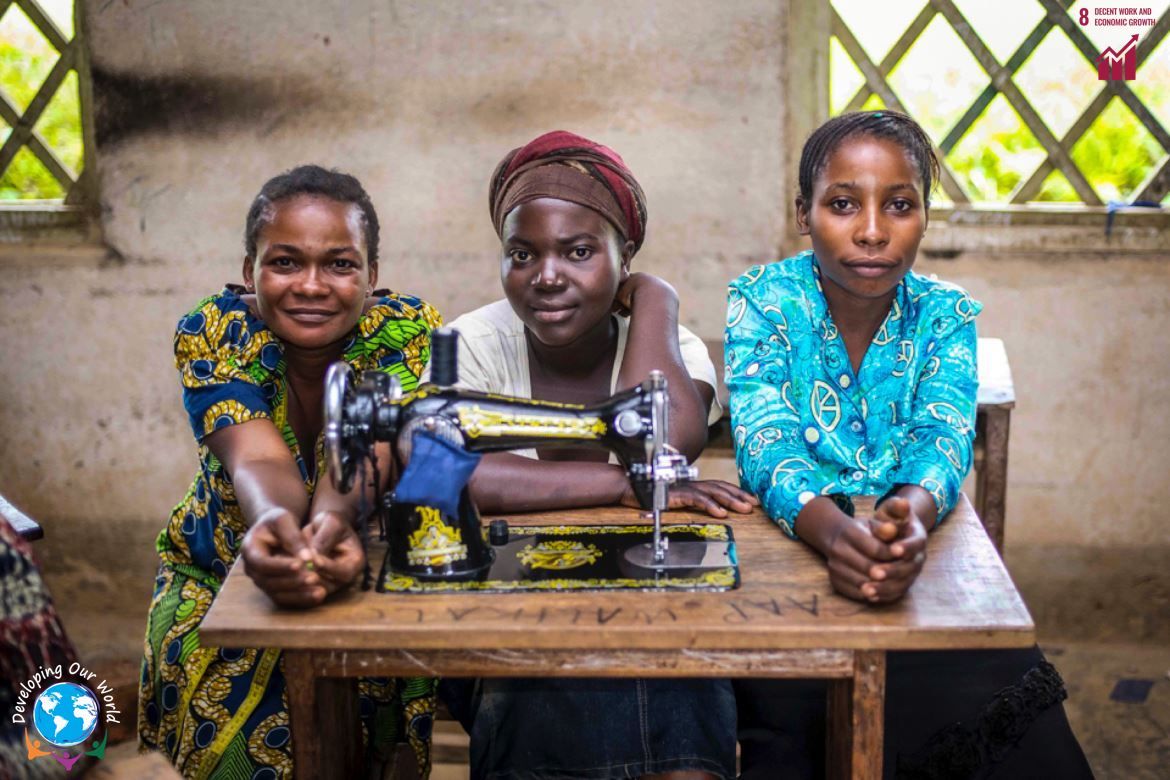 SDG 8 is connected with Principles 1, 2, 3, 4, 5 and 6 of the United Nations Global Compact.
What is the Sustainable Development Goal 8?
The proportion of the world's population living in extreme poverty has declined in recent years. However, in 2018, 8% of employed workers around the world and their families lived in poverty. Internationally, about 24.9 million people are subjected to forced labor, i.e. to work under threats or coercion. Working does not guarantee enjoying a dignified life. Therefore, so it is essential to promote decent jobs that help people get out of poverty and reduce inequalities.
The global unemployment rate has recovered in recent years. In 2018, it stood at 5% worldwide, matching the level before the economic crisis of 2009. However, there are still large disparities between regions, genders and age groups. In 2018, the youth unemployment rate was 12%, compared to 4% among adults. A fifth of the world's youth are not training or have a job, so they are not acquiring professional or educational skills, which decreases their chances of getting out of poverty and making progress. Almost one in three young people cannot find a job; which is more than double the Western average, which is 14.3%. On the other hand, the unemployment rate among adults has fallen almost to 14%, its lowest level since the end of 2008.
According to the International Labor Organization (ILO), 2 billion people occupy informal employment worldwide. These jobs lack decent income, social protection and decent working conditions, also causing major losses to a country's economy in tax matters.
It should be noted that there is also a notable gender difference. The proportion of women with informal employment is higher than that of men and in some regions such as West Asia and North Africa, the unemployment rate of women in 2018 exceeded the percentage of men by more than 8 percentage points. In addition, it should be noted that of the victims who suffer modern slavery, 71% are women and girls.
Regarding economic growth, real GDP per capita, which represents the average standard of living, increased worldwide by 1.9% in 2017, compared to 1.3% in 2016. In the least developed countries Real GDP is also growing, however, at a rate not sufficient to achieve the goal set in 2030. Policies are needed that promote economic diversification in these countries to ensure long-term sustainability and more inclusive growth.
The private sector has a clear role in achieving this objective, as it is a major player for economic growth and job creation.
SDG 8 aims to achieve sustained, inclusive and sustainable economic growth that benefits all people equally and does not harm the environment. This can only be achieved by creating decent employment for all people, especially women, youth and other vulnerable groups, eradicating practices such as forced and child labor and promoting entrepreneurship and technology innovation. Only then will it be possible to generate full quality employment and increase the well-being of the population.
The private sector has a clear role in achieving this objective, as a major player for economic growth and job creation. Thus, companies must guarantee decent conditions of employment, both to their direct workers and through their supply chains, to eradicate practices that jeopardize labor rights, encourage the hiring of new labor, especially among groups in situations of vulnerability and increase economic productivity, through the promotion of R&D, technology and entrepreneurship. According to the Global Compact study, "Global Opportunity Report 2017, Your Guide to a World of Opportunities", On business opportunities in sustainable development, this is the SDG that companies around the world identify as the one that offers the most business opportunities. Join Developing Our World and help us in our efforts to provide decent work opportunities and economic growth to the underserved people in the world.