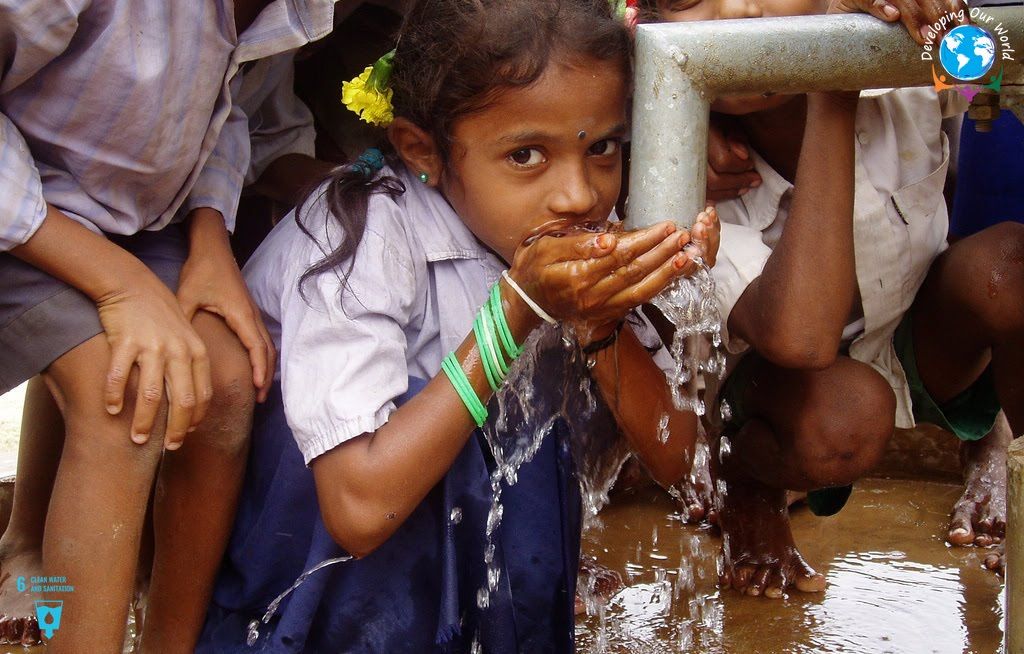 Sustainable Development Goal 6 seeks to guarantee availability and sustainable water management and sanitation for all.
Water scarcity is a global issue that impacts over 40% of the total population in the world. Moreover, to make matters worse this number can go up as the global temperature rises. In 2011, 41 countries experienced water stress (deterioration of freshwater resources in terms of quantity and quality); 10 of them were about to deplete their supply of renewable fresh water and now depend on alternative sources.
Making adequate investments in infrastructure, providing sanitary facilities and promoting hygiene practices at all levels is necessary to be able to approach the fulfillment of this goal.
The UN said that more than 2 billion people on Earth do not have access to clean drinking water. According to the organization's report, despite progress towards universal access to water for humanity, there are still huge problems in the quality of the services provided.
The World Health Organization (WHO) and the Children's Fund (UNICEF) called on the world community to increase investment in the development of water, sanitation and hygiene (WASH) services to better deal with infectious diseases. In a report, they noted with concern that around 2.2 billion people lack access to clean drinking water, 4.2 billion do not have adequate sanitation services, and 3 billion lack the ability to wash their hands with soap and water at home.
UNICEF and WHO are jointly monitoring the implementation of the Millennium Development Goals for drinking water and sanitation. From their current report, prepared as part of the Joint Monitoring Program, it appears that, despite significant progress in moving towards universal access for humanity to WASH, there are still huge gaps in the quality of the services provided. Access is not sufficient if the available water is unclean and unsafe to drink or the source is far away, and if access to the toilet is not safe or limited. This means that we do not take care of children in the world. Children and their parents in poor and rural communities are most at risk.
Inequality in access to clean water
According to the report, since 2000, 1.8 billion people have access to basic water supply services, 2 billion - to sanitary services. At the same time, there is "widespread inequality in the availability and quality of these services." According to UN estimates, 785 million people do not have basic water supply services, of which 144 million are forced to drink water from rivers, lakes and other waterways and reservoirs, which has not been disinfected.
More than twice since 2000 – from 23 to 9% - the share of the population practicing open defect has decreased in the world. In 23 countries, this phenomenon in the 21st century, in fact, has come to naught. However, for 673 million people on the planet, the situation remains the same. In 39 countries, there has been an increase in open detection since 2000, mainly in countries located south of the Sahara, where the population has increased over this time.
3 billion people cannot wash their hands with soap at home, WHO and UNICEF point out. In the least developed countries, nearly three quarters of the population is deprived of this opportunity. The report says that every year about 297 thousand children under the age of five die from diarrhea, which was the result of a lack of proper sanitation and hygiene.
If countries do not make efforts in the field of sanitation, clean water and hygiene, we will continue to live with diseases that should have remained in history textbooks. It is about such ailments as diarrhea, cholera, typhoid, hepatitis A, as well as "forgotten" tropical diseases like schistosomiasis and trachoma. Investments in water supply, sanitation and hygiene are effective in terms of value for money. Developing Our World is striving to help the world reach sustainable development goal 6 for clean water and sanitation by 2030.