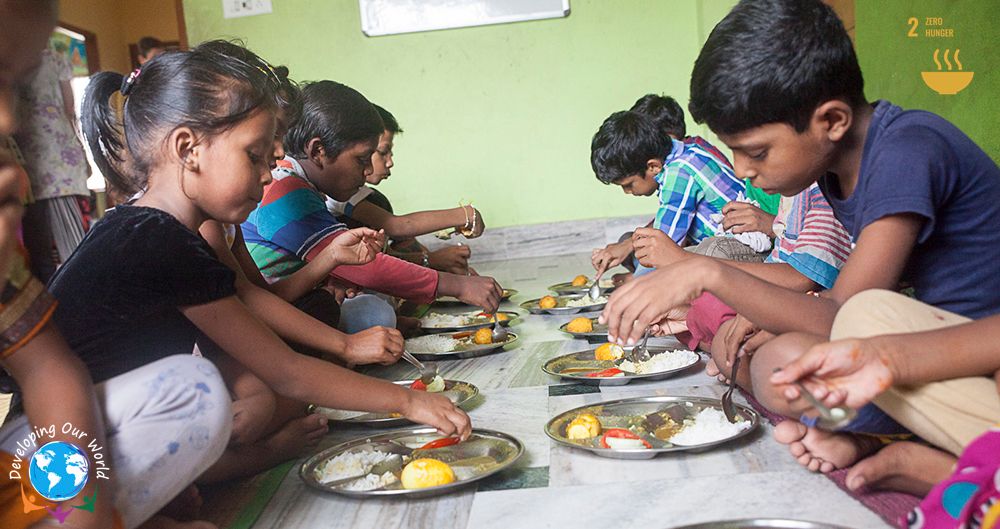 1 in 9 people in the world is undernourished, and about 800 million people go hungry on our planet. The second Sustainable Development Goal (SDG 2) is to end this problem; however, this challenge is not easy to confront, and after decades of progress the problem increases again.
Hunger and malnutrition are vicious traps that are difficult to escape – they make people less productive and more prone to disease. Ultimately, they face many difficulties to increase their income and improve their standard of living. It's a vicious circle in which millions of men, women and children live, not only in Africa and Asia, but also in areas such as the United States, Europe or Oceania.
What does it take to solve SDG 2?
The key is in proper management of natural resources. Soils, oceans, forests and their biodiversity are our food suppliers. However, overexploitation, climate change and the natural disasters associated with it are deteriorating them and greatly reducing their ability to feed the world's population. To this we must add, the losses that imply the bad practices in the collection, the waste of food or the destruction of resources caused by the warlike conflicts.
Given this situation, investments in agriculture are crucial: these can help increase productive capacity and implement sustainable food production systems and resilient agricultural practices, i.e. they are able to recover from adversity to continue projecting the future.
More specifically, among the goals of SDG 2, there is a need to double agricultural production by 2030, and also to double the income of food producers at small-scale, particularly women, family farmers, indigenous peoples, fishermen and Shepherds. Among other things, guaranteeing safe and equitable access to land and other production resources and also providing knowledge, financial services, markets and opportunities to generate added value and non-agricultural jobs.
What do we do in Help in SDG 2 Action?
Among other things, we work to multiply the ability to generate food and increase the income of small producers. Our contribution to SDG 2 translates, for example, in providing knowledge about crops, horticulture, irrigation and economics. In addition, we create a source of microfinance by forming groups of women who make a common fund for savings and loans.
Exclusion denies many people not only the access to the food necessary for a healthy life, but also access to knowledge and opportunities to face the hunger that is accompanied by poverty. It is important to note that not everyone who is poor is hungry and that the production of natural food is a fundamental tool to combat hunger and poverty.
Our efforts
In our attempt to end hunger in childhood, we provide scholarships for dining, snacks and breakfast to children in need. But we not only talk about hunger, but also about malnutrition. In this way, we try to provide training to young people and families in cooking, nutrition and home economics techniques, in addition to supporting entrepreneurship and income generation, also generating future vocations for youth.
Improving Community Development
Developing Our World has chosen to work with communities located in the poorest regions. Since inception, Developing Our World has worked with several communities on various projects to help cater to global hunger.
Most communities find out about Developing Our World by word of mouth or through our website. Most of these communities are not clear about these approaches to social development, but have a very strong desire to improve the situation of their communities through training and development.
Developing Our World works only with stakeholders that show a deep interest in undertaking community work or contributing towards it in some way. Developing Our World assures that the results of all initiatives will be beneficial for community development.
Do you want to help us achieve SDG 2?
There are many ways to collaborate with Help in Action, from volunteering to sponsorship or timely donations, among others. Take a look and choose the one that best suits you. Help us to end hunger in the world!