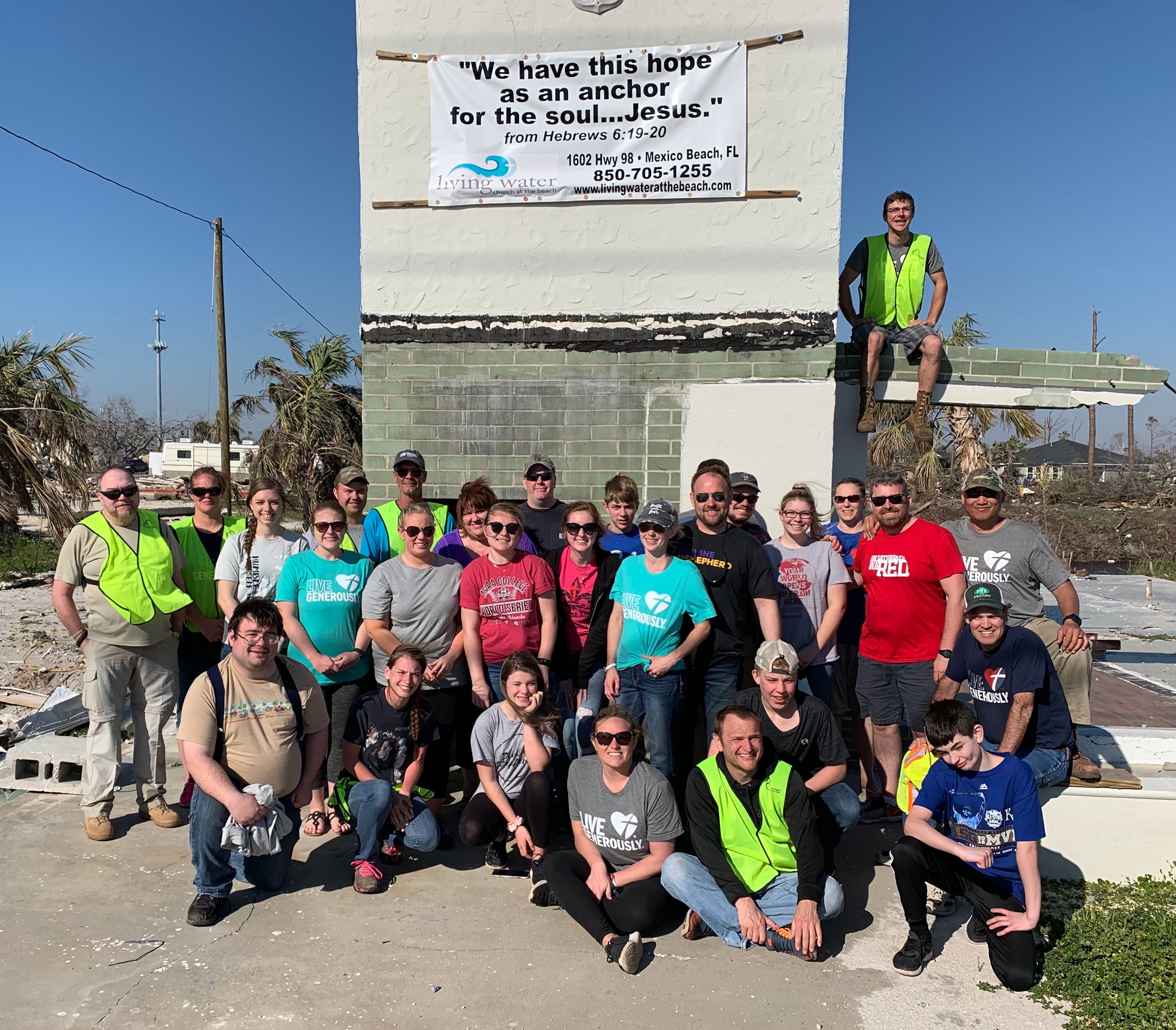 I'm sure you have heard this idiom, "the calm after a storm." We saw this truth in life during our mission trip to Mexico Beach, Florida where a hurricane came through and left destruction in its wake.
In Mexico Beach, catastrophic and widespread destruction occurred as many homes were flattened or completely swept away by a 14 ft (4.3 m) storm surge and high-end Category 4 winds. The remnants of many homes were scattered across U.S. Route 98, which had large sections of pavement washed away. Entire neighborhoods in Mexico Beach were reduced to nothing but bare foundation slabs, and numerous vehicles, businesses, apartment buildings, and hotels throughout the community were destroyed or severely damaged. Countless trees in the area were snapped and denuded, including a few that sustained some debarking. [The National Guard rescued about 20 people, while it was estimated that as many as 285 residents of the small town may have stayed. Severe damage from storm surge and intense winds also occurred at St. George Island, in Port St. Joe, and in Apalachicola, where a storm surge of 8.50 ft (2.59 m) was recorded. Downtown Port St. Joe sustained extensive damage, and the storm surge left boats and other debris deposited in yards, streets, and parking lots in town. Michael's intense eyewall caused major structural damage as far inland as Marianna, where buildings in the downtown area were severely damaged, leaving streets covered in bricks, lumber, and structural debris from collapsed roofs and walls. Homes and churches in town were heavily damaged, and countless trees and power lines were downed. The hurricane also dropped torrential rainfall along its path, reaching 5.05 in (128 mm) near Scotts Ferry. Debris on Interstate 10 resulted in the roadway being closed between Lake and Tallahassee, a distance of about 80 mi (130 km). In Tallahassee, many trees fell across the city and approximately 110,000 businesses and homes were left without electricity, while a sewer system failed. In Chattahoochee, the Floria State Hospital – the oldest and largest psychiatric hospital in the state – became isolated, forcing aid to be dropped by helicopter.*
During Spring break of 2019, specifically from March 16-23, Divine Shepherd Lutheran Church and Bethany Lutheran Church, both churches in Omaha, Nebraska, plus two members of Zion Lutheran Church in St. Charles, went to proclaim and demonstrate God's love through their hurricane relief effort. A total of 27 people were part of this team.
The team stayed at Trinity Lutheran Church in Panama City and traveled everyday to Mexico Beach to work with Living Water Church, pray with those who lost their homes, share the Gospel with them through word and deeds, and demonstrate God's love by cleaning and repairing their homes. We helped bring peace and calm after this catastrophic storm.
The trip was a total success and the desired outcomes were achieved. We were able to accomplish a lot and reach out the community. Hopefully, we can return and help build Living Water Church, so they can have a facility again.