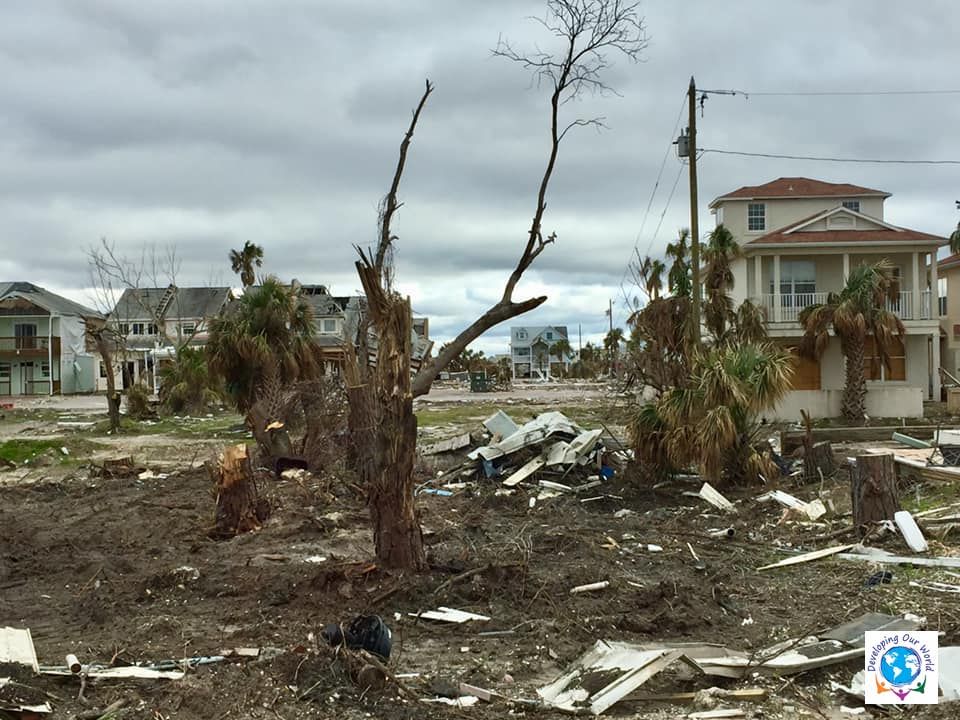 Developing Our World was invited by Pastor Sean Chapman to join his church on a Mission Trip for relief efforts in Mexico Beach, Florida from March 16 - 27, 2019. We accepted the invitation because it aligns with our values and efforts provides an opportunity to work in the United States.
There will be 23 people on this mission trip, most of them young adults, engaging in rehabilitation and development in the community destroyed by Hurricane Michael. 
The Hurricane Michael was the third-most intense Atlantic hurricane to make landfall in the United States in terms of pressure, behind the 1935 Labor Day hurricane and Hurricane Camille of 1969, as well as the strongest storm in terms of maximum sustained wind speed to strike the contiguous United States since Andrew in 1992. In addition, it was the strongest storm on record in the Floria Panhandle, and was the fourth-strongest landfalling hurricane in the contiguous United States, in terms of wind speed. [1]
Michael made landfall as a high-end Category 4 hurricane, with maximum sustained winds of 155 mph (250 km/h), at 12:15 CDT (17:15 UTC) on October 10, in Mexico Beach, Floria, and near Tyndall Air Force. A wind gust of 139 mph (224 km/h) was recorded at Tyndall Air Force Base, along with sustained winds of 86 mph (138 km/h), before the station failed prior to the arrival of Michael's inner eyewall. The base sustained devastating wind damage after being directly impacted by the hurricane's violent eyewall. Every structure on the base sustained damage, and some were completely shredded by the intense winds. Vehicles were tossed through parking lots and destroyed, large hangars were severely damaged, and an F-15 that was on display was flipped onto its roof. Large forests in the area were almost entirely flattened to the ground, while trees that remained standing on and around the base were completely stripped and denuded. Several F-22 fighters were also damaged, with a replacement value of about $6 billion if repair is not possible. [2]
In Mexico Beach, catastrophic and widespread destruction occurred as many homes were flattened or completely swept away by a 14 ft (4.3 m) storm surge and high-end Category 4 winds. The remnants of many homes were scattered across U.S. Route 98, which had large sections of pavement washed away. Entire neighborhoods in Mexico Beach were reduced to nothing but bare foundation slabs, and numerous vehicles, businesses, apartment buildings, and hotels throughout the community were destroyed or severely damaged. Countless trees in the area were snapped and denuded, including a few that sustained some debarking.[The National Guard rescued about 20 people, while it was estimated that as many as 285 residents of the small town may have stayed. Severe damage from storm surge and intense winds also occurred at St. George Island, in Port St. Joe, and in Apalachicola, where a storm surge of 8.50 ft (2.59 m) was recorded. Downtown Port St. Joe sustained extensive damage, and the storm surge left boats and other debris deposited in yards, streets, and parking lots in town. Michael's intense eyewall caused major structural damage as far inland as Marianna, where buildings in the downtown area were severely damaged, leaving streets covered in bricks, lumber, and structural debris from collapsed roofs and walls. Homes and churches in town were heavily damaged, and countless trees and power lines were downed. The hurricane also dropped torrential rainfall along its path, reaching 5.05 in (128 mm) near Scotts Ferry. Debris on Interstate 10 resulted in the roadway being closed between Lake and Tallahassee, a distance of about 80 mi (130 km). In Tallahassee, many trees fell across the city and approximately 110,000 businesses and homes were left without electricity, while a sewer system failed. In Chattahoochee, the Floria State Hospital – the oldest and largest psychiatric hospital in the state – became isolated, forcing aid to be dropped by helicopter. [3]
The team will work mostly in Mexico Beach and will stay at Camp Trinity, which is run by Trinity Lutheran Church in Panama City. Pray for us as we engage in holistic community development in our very first mission trip to Mexico Beach, Florida.