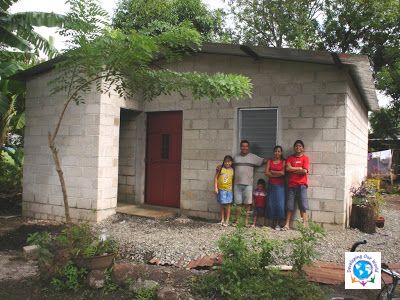 As a result of its partnerships in several Central American countries, I have the honor and privilege to announce that Developing Our World will begin building houses for low income families in Nicaragua, Honduras, El Salvador and Guatemala.
The model of the house is simple. It will be a cinder block house, measuring 36 square meters with two bedrooms, one room destined for living room, dining room and kitchen, and one room destined for the bathroom that includes a shower. Generally, these houses have one main door, one back door, and three windows (one window in each bedrooms and one in the bathroom). All of the materials, according to each country, are standardized. For example: doors, windows, floor, roof with its structure, and utensils for the bathroom, etc. will be the same.  The only variation is the position of the bathroom (according to the desire of the family) and the doors (according of the landscape of the lot).
This type of house can be found throughout Centro America. This construction is commonly found in both rural and urban areas and build to resist seismic activities that often hit these countries.
For more information, contact us!